Apple and iTunes gift cards are one of the most popular gift cards out there, which is why it's important to know what iTunes gift cards are useful for. Talking of apple and iTunes gift cards, these two often get mistaken for each other, and some people even think they are the same, but that's not true, we previously outlined the differences, these two cards serve two distinct purposes. In this article, we'll focus on iTunes gift cards, and we'll be discussing what it is, what it is used for and more. 
For New Newbies, What are Gift Cards?
Gift cards are prepaid cards loaded with a specific amount of money and can be used as an alternative means of payment in particular retail outlets. These cards are used like traditional bank debit cards- you load them with money and use them to purchase goods and services from specific outlets.
Gift cards come in two forms: physical and electronic cards.
Physical gift card:

These cards are the physical plastic cards

Electronic gift card:

Also known as Egift card, these are online cards.
There are also two types of gift cards– Open loop and closed-loop cards.
Open Loop Gift Cards

– These cards can be used in any store that accepts them. They are more widely accepted cards, and some brands that make these cards are MasterCard, Visa, American Express and Discover. Open loop cards can be topped up when they run out of funds, and owners can also reload them themselves.

Closed-loop Gift Cards:

These cards can only be used in specific stores specified by the retailer or brand, either on their website or in their physical store. Unlike open-loop cards, these cards cannot be topped up, and when the balance runs out, it has no use. Most closed-loop cards have an expiration date. If you do not use the funds on the card before the expiration date, it can not be used after that.  
What Is An iTunes Card?
We have touched on the basics of a gift voucher, its forms and types; now, we are narrowing it down and looking at the iTunes gift card, what it is and what it is used for. 
Firstly, what is iTunes?
It is a software owned by Apple which allows users to do a range of things, such as Import songs from CDs, purchase music, have access to online live streams, watch movies, and so much more. Before the inception of iTunes, people usually had to go to physical music shops to buy music records or even download them from illegal sites. But now, you can purchase music (and even more) online through the iTunes store. 
An iTunes gift card is a voucher or prepaid debit card which you can use to purchase things from the iTunes store instead of using your debit card or any other type of traditional payment method. Like other gift vouchers, it comes in two forms- a physical card and an E-gift card. You can buy iTunes gift cards in the physical Apple retail outlet, the website, or any convenience store that sells them. 
What Is An iTunes Card Used For?
We have previously mentioned a few things about iTunes as a platform and its gift card, now let's fully highlight the uses of an iTunes gift card.
To Purchase Apps On The Apple App Store:
From games to other types of applications and subscriptions, some are free, some are not, but if you have an iTunes card, you can use it to buy these paid apps.
To Renew Apple Music Subscriptions:
In Nigeria, there is a constant issue when it comes to paying for Apple Music, and we have the recurring questions we see every month- what debit card can I use to pay for Apple music? It seems like Apple has a love-hate relationship with Nigerian Debit cards, but there is a solution. Instead of fighting with your bank and opening a new bank account every month, an Itunes card can solve your problem.
To Purchase iCloud Storage:
As a new user, you automatically get 5GB of free iCloud space, but there is no doubt that it can get filled up quite quickly. To upgrade to a larger iCloud storage, you can use an iTunes gift voucher to buy iCloud storage space for your apple product.. 
With the balance on your iTunes gift voucher, you can use it to purchase various paid books on Apple Books and movies available on the iTunes store. 
You can use the iTunes gift card for in-app purchases and game currencies on various games available on the Apple App store.
How To Redeem an iTunes Gift Card
Below is a step-by-step guide on how to redeem your iTunes gift card on your iTunes account.
Peel or off the label from the back of the card. This reveals a 16-digit code which starts with an "X."

Open the Apple App Store.

At the bottom-left corner of your screen, tap "TODAY."

Click on your photo or profile icon. This is located at the top-right corner of your screen.

Click on 'REDEEM GIFT CARD OR CODE"

Two options will be displayed- "use camera" and "enter code manually". You can choose to scan your physical gift card using your camera, or you can manually type out the 16-digit code.

Review the 16-digit code carefully to make sure it is correct.

Click on REDEEM at the top right corner of your screen.
After this, the amount on the card will be added to your balance, and you can now use it to purchase apps, music, movies and basically anything that requires you to input your Apple ID.
The Best Site To Redeem iTunes Card For Cash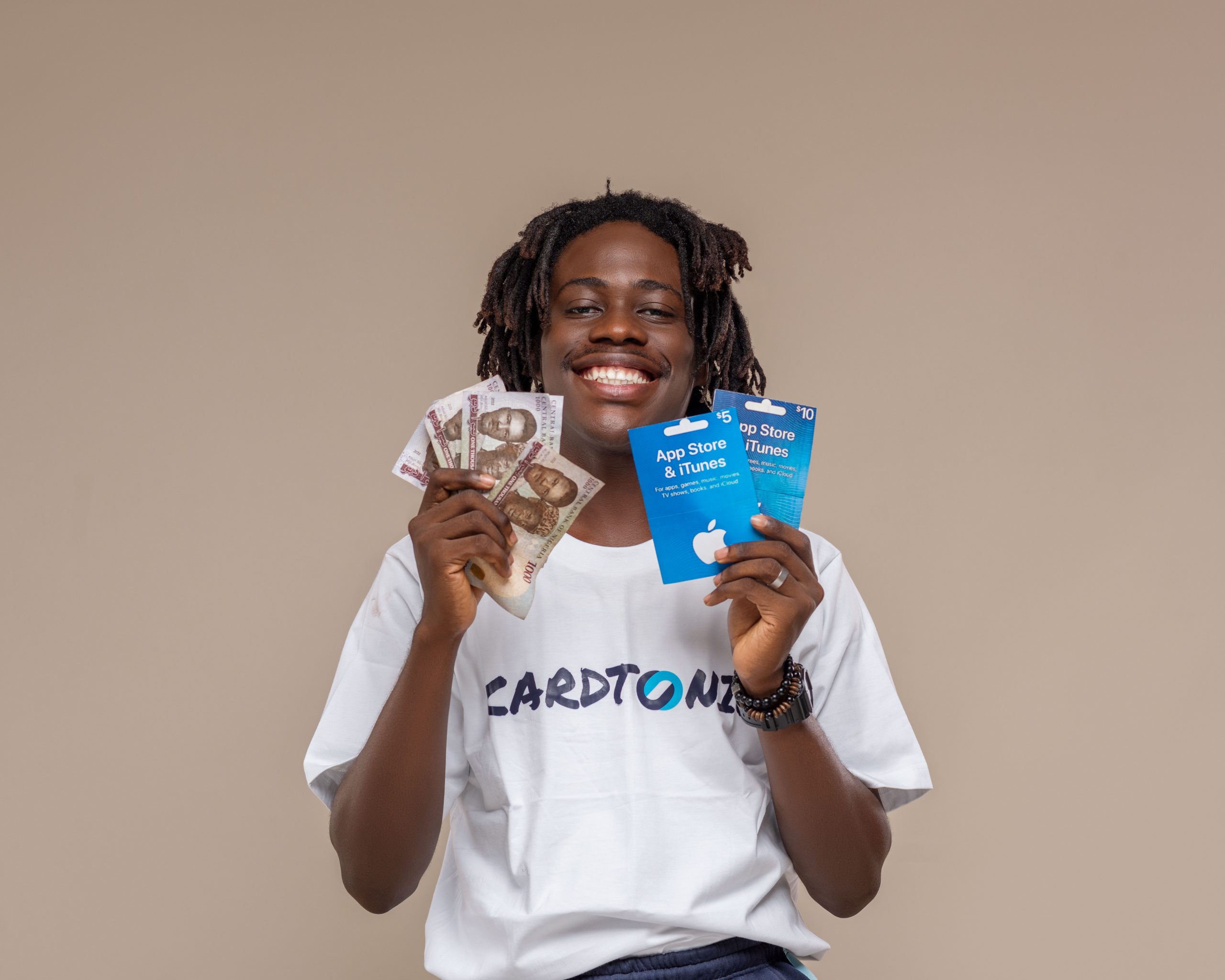 Earlier, we discussed how to redeem your gift voucher and add it to your Apple balance. But did you know you can also redeem it for cash? Let's discuss how you can make quick money by selling your iTunes gift card for cash using the best gift card trading app, Cardtonic.
Cardtonic is a gift card trading platform in Africa where users can sell unused iTunes gift cards in exchange for money. 
Every year, thousands of gift cards go unused and cause a lot of waste. In 2019 alone, about $3 billion in gift cards went unused. This is because some people abandon their gift cards entirely or even misplace them. 
Many of these popular foreign brands that issue gift vouchers are actually not operating in Nigeria, so Nigerians who own these gift cards most likely have no use for them and abandon them. 
But with gift card trading platforms like Cardonic, you can sell your unused gift card at mouth-watering rates. 
Cardtonic is currently available in Nigeria and Ghana.
For further enquiries, you can reach a representative at +23413430626, send a message on WhatsApp at +2347060502770, or use the LIVE CHAT button available in-app or on the website. 
Conclusion
While the Apple gift card is used for buying hardware like iPhones, MacBooks, Macs, iWatches, AirPods etc., from the Apple store,iTunes gift cards are used to buy things from the online iTunes store.
The iTunes gift card has various uses, from paying for a subscription to purchasing paid apps and entertainment. This voucher and its services leave no room for doubt on why the iTunes gift card is one of the most popular gift cards on the market.