Buying gifts for the sneakerhead in your life can be tricky. You want to get them something cool, stylish, and, most importantly, useful. Well, it's no rumour that Nike gift cards are a fantastic choice, but how do they really work? Can you only use them at Nike stores? What can you even buy with a Nike gift card?
As someone who has got Nike gift cards for holidays and birthdays, I've learned the ins and outs of how to use them. And let me tell you, they're way more flexible than just buying sneakers or athletic gear.
In this guide, I'll clear up all the confusion and questions about Nike gift cards. You'll learn exactly what they can be used for online and in stores, how to check balances and redeem them, and even how to get cash back for unwanted ones.
What Are Nike Gift Cards?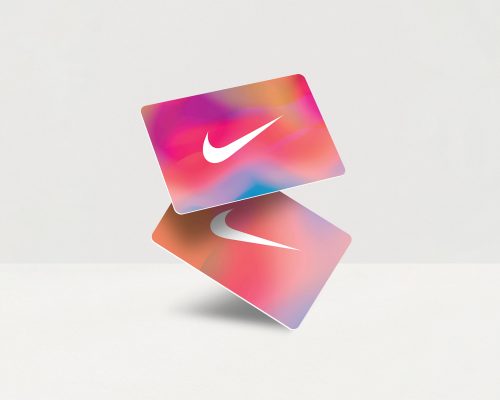 Nike gift cards allow recipients to shop Nike's selection of athletic apparel, sneakers, and sports equipment. They come in physical or e-gift card form, with physical cards sold at select retailers.
Nike gift cards have no fees and no expiration date. The funds never expire, so the recipient can use the card at their own pace on future Nike purchases.
They are issued in various set amounts, typically ranging from $25 up to $500. Some retailers may allow customising the gift card value within that range.
Nike gift cards can be used to shop at Nike retail stores, Nike Factory Stores, Converse stores, and online at Nike.com. They provide flexibility to get Nike products tailored to the recipient's tastes and needs.
How To Check Your Nike Gift Card Balance
If you're curious about your Nike gift card balance, checking it is easy on Nike's official website. Just go to the homepage, scroll down to "Gift card balance," enter your card number and PIN, and click "check balance" to view it instantly.
Go to Nike's official website using your web browser.
Scroll all the way down the home page until you see the "Gift Card Balance" option.
Click that gift card balance button and enter your gift card number and PIN, which is on the back of the card.
If you've got an eGift card, use the details from the email voucher.
Hit that "check balance" button, and boom – you'll see your Nike gift card balance right there.
Heads up: if you still need more information on how to check your Nike gift card balance, I have written an article that can help you. Feel free to check it out for all the details you need!
How To Redeem Your Nike Gift Card
As a Nike fan, I've redeemed my fair share of Nike gift cards. There are two easy ways you can use yours – in-store or online. Let's explore both methods so you can make the most of your card's value.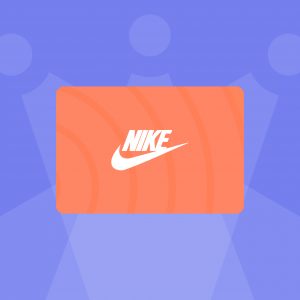 1. Redeem Your Nike Gift Card In-Store
If you're like me and love wandering around physical stores, grab your gift card and head to any Nike retail location. Pick out some sweet new kicks or apparel you've been eyeing. When it's time to check out, just hand your gift card over to the cashier. They'll swipe it, and voilà – purchase made!
2. Redeem Your Nike Gift Card Online 
If online shopping is more your jam, go to nike.com and load up your cart with all the gear you want. When you get to checkout, make sure to click the box asking if you have a gift card, voucher or promo code.
Type in the gift card number and PIN from the back of the physical card or the email for a digital one. Hit "Apply," and the card's value will be deducted from your order total.
Note: You don't have to worry if your gift card doesn't cover everything; you can split the payment between the card and another method. The gift card balance is used first, followed by the remaining amount. You can even use multiple gift cards on a single order to maximize your savings!
Where To Buy And Sell Nike Gift Cards
When it comes to getting those Nike gift cards, you've got three awesome options to pick from – Nike stores, Nike's site, and Cardtonic. Let's break it down.
1. Nike Retail Stores: If you're into that old-school shopping vibe and like to physically hold stuff before you buy, head down to your local Nike store. You'll find those shiny physical Nike gift cards waiting for you there.
2. Buy Online on Nike Website: Now, for those who like to keep it chill in their PJs, Nike's official website, nike.com, is where it's at. They offer digital gift cards that you can snatch up with a few clicks. No need to leave your cosy spot.
3. Cardtonic: But wait, there's more! When it comes to selling or buying Nike gift cards, Cardtonic is the real MVP. On Cardtonic, you can trade all kinds of gift cards, including those sweet Nike ones.
Benefits of Nike Gift Cards
Nike gift cards offer benefits like freedom of choice, no need for a credit card, perfect gifting, potential savings, secure transactions, no expiry date, and sheer convenience. Let's explore these benefits in detail.
1. Freedom: Nike gift cards mean you call the shots on what to spend on. Craving new kicks or athletic gear? You get to pick with the gift card funds!
2. No Credit Card: Skip the credit card hassle when you shop online with a Nike gift card. No need to enter your info which is a relief.
3. Perfect Gifts: Struggling to find a gift for the Nike lover in your life? Let them pick out their own swag with a Nike gift card.
4. Savings: – Your gift card can take advantage of Nike's sweet discounts and sales events. More style without blowing your budget!
5. Secure: Shop worry-free by entering your Nike gift card code instead of financial details online. Safety first!
6. No Expiry: Nike gift cards don't expire, so you can take your time deciding what to spend the funds on.
7. Convenient: Buy Nike gift cards in a snap from gift card platforms like Cardtonic. Simple and stress-free!
Frequently Asked Questions About Nike Gift Cards
1. Why Can't I Redeem My Nike Gift Card?
If your Nike gift card won't redeem, double-check the card number and PIN you entered. Ensure they match the details on the physical card or in the email for a digital one. If you encounter issues, contact Nike's customer support for assistance.
2. Do Nike Gift Cards Expire?
No, Nike gift cards do not expire. You can take your time deciding how to use them; there's no rush.
3. What Are Nike Gift Cards Used For?
Nike gift cards can be used to purchase a wide range of Nike products, including footwear, apparel, accessories, and more.
4. How Can I Use A Nike Gift Card?
To use a Nike gift card, either enter the card details during the online checkout process on Nike's official website or present the physical card to the cashier when making an in-store purchase. Additionally, you can sell for cash on platforms like Cardtonic.
5. How Many Digits Is A Nike Gift Card PIN?
A Nike gift card typically has a 19-digit card number and a 6-digit PIN.
6. Can You Convert A Nike Gift Card To Cash?
Yes, you can convert your Nike gift card into cash by selling it on platforms like Cardtonic, a trusted platform for buying or selling gift cards.
Conclusion
To wrap things up, Nike gift cards are like your ticket to retail freedom. Whether it's treating yourself to some fresh Nike kicks or hooking up your buddy with the ultimate gift, these cards are all about making life easy and stylish.
Plus, there's no rush – these cards don't expire, so you can ponder your purchases as long as you want. And if you ever feel like flipping your Nike gift card for cash or grabbing a new one, you know Cardtonic's got your back.
So, take that leap, make the most of those Nike gift cards, and remember, it's not just shopping; it's a statement of your unique style. So go ahead, embrace the Nike spirit, and just do it! Happy shopping.