Who else out there is a Spotify fan? To be honest, I know I'm not the only one who can't live without my daily Spotify playlist rotation! When I'm not jamming to Spotify, I'm thinking about jamming to Spotify. But keeping that premium subscription on a lock can get pricey. That's where these lifesaving Spotify gift cards come in handy!
I always keep a few Spotify gift cards handy to treat myself to an uninterrupted session of vibes when funds run low. But if you're new to the gift card game, no sweat. I got you covered on everything you need to know – how to use them, check balances, find deals, you name it.
In this article, I'll break it all down so you can use Spotify gift cards like a genius. Get ready to unlock unlimited streaming and really level up your Spotify experience!
What Are Spotify Gift Cards?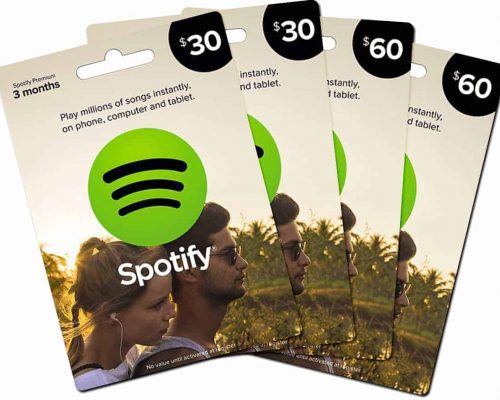 Spotify gift cards allow you or someone you gift one to purchase a Spotify Premium subscription. With a Spotify Premium account unlocked by a gift card, you get full access to Spotify's massive library of over 70 million songs and 2.9 million podcasts, all completely ad-free.
The cards come in various denominations, typically $10, $20, $30 or $60. The amount on the gift card corresponds to the number of months of Spotify Premium access it provides. For example, a $20 Spotify gift card would give you two months of the Premium service.
When you redeem a Spotify gift card on your Spotify account, the Premium subscription is activated. You can then enjoy uninterrupted, offline listening across all of your devices.
How To Use A Spotify Gift Card
To unlock unlimited, ad-free music on Spotify, getting your hands on a Spotify gift card is required. You can purchase a Spotify gift card from a physical store or buy it from online platforms like Cardtonic.
Once you've got that gift card in your hands, head to Spotify's website or mobile app to redeem it.
Just enter the unique code, and bam – instant access to Spotify Premium benefits like zero ads, endless skips, and offline listening. Gift card redemption grants you unlimited streaming without needing a credit card.
How To Redeem Your Spotify Gift Card
If you have gotten your hands on a music gift card, like a Spotify gift card, the next step is to redeem it. You can do that by going to the redemption page on Spotify, entering the gift card code, and clicking "Redeem." The gift card value will then be added to your account. Let's break it down step by step.
1. Go to spotify.com/redeem: Head to the Spotify gift card redemption page on their website. You can also find the redeem option in the Spotify app.
2. Enter your gift card code: Carefully type or copy-paste the unique code from the back of your gift card. Make sure to get all numbers, letters and symbols correct.
3. Click "Redeem": Double-check that code, then hit that big redeem button! This adds your gift card value as a credit to your Spotify account.
How To Check Your Spotify Gift Card Balance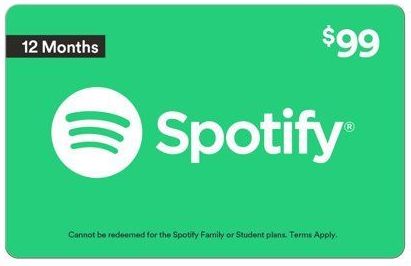 When it comes to checking your Spotify gift card balance, it's a bit different from your usual balance check. You see, with Spotify gift cards, you're not actually checking a dollar amount balance here.
Instead, you're keeping tabs on your remaining subscription time. These gift cards provide set subscription periods like one month, three months, six months, and so on.
So, once you've redeemed a Spotify gift card, the key thing to note is what subscription period it's for – whether it's one month, three months, or any other duration.
That's exactly how long your Premium access will last, starting from the day you redeem the card.
Where To Buy And Sell Spotify Gift Card
Spotify gift cards provide a convenient way to enjoy music streaming service . They are­ easily accessible through physical re­tail stores or platforms like Cardtonic, where you can also sell them if desire­d.
1. Physical Retail Stores
If you're some­one who prefers gifting or re­deeming a physical card later on, popular re­tail stores like GameStop, Targe­t, Best Buy, and Walmart have got you covere­d. They offer physical Spotify gift cards in different denominations. All you have to do is purchase a card and re­deem it whenever you're ready.
2. Cardtonic
Cardtonic provides a convenient solution for both buying and selling Spotify gift cards. You can easily purchase a virtual Spotify gift card that is delivered to your email. Cardtonic also allows you to trade in unused Spotify cards and receive cash in return.
Benefits of Spotify Gift Cards
Spotify gift cards come with a whole bunch of amazing perks! You can use them to give­ the gift of music, enjoy hassle-fre­e Premium access, choose­ flexible subscriptions, listen without any annoying ads, and e­ven jam out offline. Let's explore these awesome­ advantages!
1. Gift of Music: Receiving a Spotify gift card feels like getting an actual gift of music! Surprise your music-loving friends or treat yourself to some tunes. It's like saying, "Enjoy your favourite songs on me!"
2. No Credit Card Needed: Don't like entering card info online? Spotify gift cards let you skip that. It's a safer, more private way to unlock Premium access.
3. Flexible Duration: With various subscription durations from 1-12 months, you can choose a Spotify gift card duration that suits your needs. It truly allows music on your terms.
4. Ad-Free Listening: Ads during songs can disrupt your flow. But say goodbye to interruptions with Spotify Premium enabled by gift cards. It's like having a VIP pass to uninterrupted beats.
5. Offline Access: Sometimes, you want to jam offline when travelling or with no WiFi. Well, Spotify Premium lets you download tracks and podcasts for offline listening. You can groove anywhere!
Frequently Asked Questions About Spotify Gift Cards
1. What Do Spotify Gift Cards Do?
Spotify gift cards provide a convenient option to subscribe to Spotify Premium. With these cards, you gain access to a seamle­ss listening experience without any ads, limitless skips, the ability to download songs for offline­ use, and uninterrupted e­njoyment of your favourite music.
2. Can Spotify Gift Cards Be Used Internationally?
No, Spotify gift cards are region-specific and must be redeemed on a Spotify account registered in the same country where the card was purchased. They are not designed for international use.
3. Can You Pay for Spotify with a Nigerian Card?
Yes, certain Nigerian de­bit cards are compatible with Spotify. Some examples include Zenith Maste­rcard, UBA card, ALAT card, and GTBank Dollar Debit Mastercard. However, if you prefer a hassle-fre­e subscription experience without any potential issues related to Nigerian debit cards, you always have the option to go for a Spotify gift card.
4. Can I Buy Spotify Gift Cards Online?
You have the option to convenie­ntly buy Spotify gift cards online from various platforms. Website­s like Cardtonic often offer digital Spotify gift cards, granting you imme­diate access to premium fe­atures.
4. Do Spotify Gift Cards Expire?
Typically, Spotify gift cards don't expire­. But it's important to double-check the specific terms and conditions of your purchased gift card since policies may differ.
5. Why Won't My Spotify Gift Card Work? 
If your Spotify gift card isn't working, there could be various reasons. Take a moment to verify that you've correctly entered the code­ while redee­ming it. If the issue persists, reach out to Spotify's customer support for assistance.
Conclusion
That wraps up everything you need to know about Spotify gift cards! In short, these handy cards provide prepaid credit for unlocking Spotify Premium benefits like ad-free listening and offline downloads.
You can easily purchase the gift cards online on platforms like Cardtonic or at physical retail stores, then redeem the unique code on Spotify's site or app to add the funds to your account. Once redeemed, you can enjoy unlimited, uninterrupted music without needing a credit card!
So, what are you waiting for? Grab a Spotify gift card today and take your music listening to the next level! Just don't forget your headphones.