eBay gift card is one of the most popular gift cards in the USA. It is a code that credits your account with a particular amount of money when applied to your account. You can use your eBay gift cards online or at a physical store. 
eBay gift cards can be used to buy nearly every item on the eBay website. They can be used to pay for all or part of your purchase. You can choose what, when, and how you want to buy. You can buy anything on eBay, including toys, clothes, wears, electronics, etc. The cards are available as e-codes and physically. A fantastic feature of eBay gift cards is that they have no fee and do not expire. 
The next question that would be on your mind is most likely, " How Can I check my eBay gift card balance without redeeming it ? " Here is how. 
How To Check Your eBay Gift Card Balance
To check your eBay gift card balance, you would need to go on the website, input your card details then click on "Check Balance". 
Go to the eBay gift card balance checker 

page

.

Input your gift card code (eBay gift card code consists of a 12-digit numeric code located on the gift card picture).

Click the 'Check Balance' icon to reveal the gift card balance.
Where You Can Use Your eBay Gift Card
You can redeem your eBay Gift Card to buy any item on the eBay website. It is strictly used to make purchases on eBay. Despite some possible issues that may arise, this gift card is one that would serve you for a long time.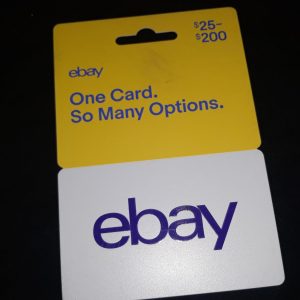 Where To Activate eBay Gift Cards
To enjoy the goodness of the eBay Gift Card on the eBay platform, all you need to do is log in to your account and type in your redemption code.
Input the redemption code close to the bottom of the checkout page around the field containing the gift cards, eBay Bucks, and coupons.

It is vital to know that it could take up to four or more hours before your eBay gift card is activated.
Conclusion
eBay gift cards are one of the most popular gift cards that can be bought at thousands of stores across the United States. Therefore, purchasing your gift card directly from eBay or a trusted retailer is vital to avoid being scammed. With your activated eBay gift card code, the sky is the limit regarding your shopping experience. An eBay gift card is also an exceptional gift choice for virtually everyone.