Simply put, Amazon is a brand that caterers to your needs. There are majorly into online retailing and web services. On the Amazon website, you can buy items from almost every category you can think of. Such as; gaming accessories, electronics, kitchen, dining, fashion, etc. Amazon has a web streaming platform rivaling Netflix, known as Amazon Prime. This is the only place you can watch Gangs of Lagos currently, and many other trending movies/series.
What if I told you there is a quick, easy, and cheaper means of buying every item and service provided by Amazon, would you believe me? Well, you should because it exists and it is called an Amazon Gift Card. I am going to show you exactly how they work, and how you can navigate them.
So if you want to get this gift card for yourself, or are looking to buy it for a loved one, and you do not have much information on it, then you have come to the right place.
Where Can I Buy Amazon Gift Cards?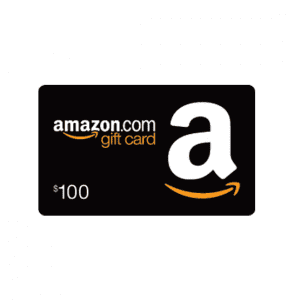 Amazon gift cards are very popular and can be purchased at numerous locations. However, the two most secure places to buy Amazon gift cards are either from the Amazon brand or Cardtonic.
1. How To Buy Amazon Gift Card From Amazon :  
On Amazon, you can buy various forms and amounts of this digital asset. Simply head to the Amazon website, and pick the one best suited for you or your loved one.
2. How To Buy Amazon Gift Card Cardtonic: 
Cardtonic is the perfect alternative asides from the brand to buy this gift card. If you want a much quicker delivery and more responsive customer service, Cardtonic is your best option. All you need to do is download the app and register on the Cardtonic platform, then get straight into it. 
What's An Amazon Gift Card Used For?
Amazon is one of the biggest E-commerce websites worldwide. They are popularly referred to as the "everything store" because they sell practically anything you need. Ranging from, Home decor, grocery items, kitchenware, etc. The Amazon gift card can be used to purchase all these items and online services with ease.
Additionally, Amazon gift cards are a great way to show appreciation and care to loved ones. 
How To Redeem Amazon Gift Cards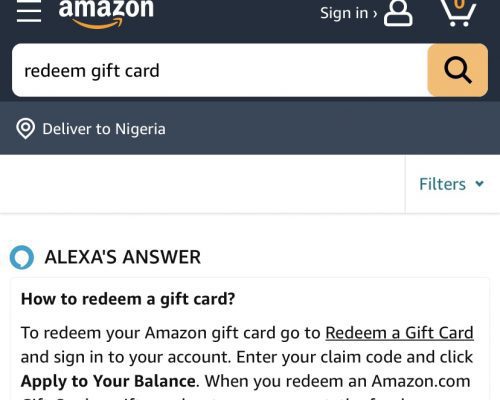 There are two major forms of Amazon gift cards; physical and e-code. Both of which are redeemed slightly differently. 
1. How To Redeem Physical Amazon Gift Card
 Head to the gift card redemption page on Amazon.
 Click on Redeem Gift Card

Enter your claim code and select

Apply to Your Balance.
2. How To Redeem Amazon Ecode (Digital Code)
Copy the code sent to you by Amazon either via email or text. 

Sign into your account.

Enter your claim code when you are ready to checkout.
This is the answer to your "How Do Amazon Gift Cards Work ?' question.
Common Errors Associated With The Amazon Gift Card
In very few instances, you may face some challenges when you try and redeem your Amazon gift card. You should have an understanding of these errors, and know how to fix them. The most common Amazon gift card errors are; Claim code locked, and an invalid code. 
1. Claim Code Locked :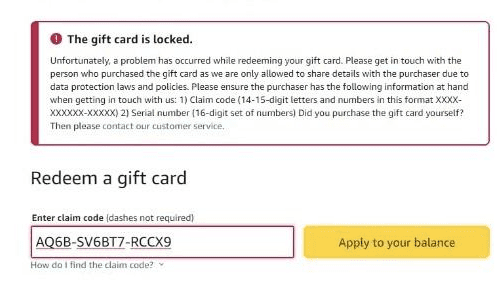 The claim code locked error message mostly occurs when you redeem a card someone else purchased. You would need to reach out to the person who bought the Amazon gift card and ask for the required details of the digital asset. 
2. Invalid Code: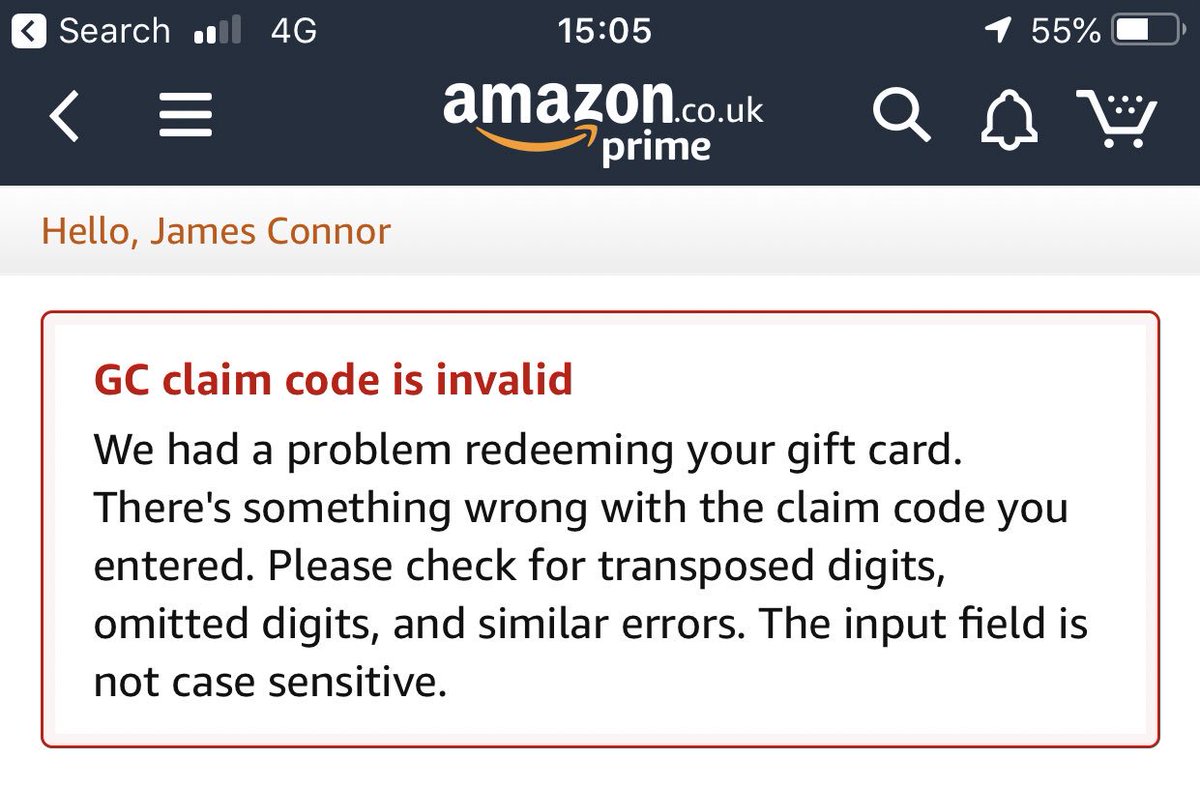 You would most likely receive the invalid code error message when you mistakenly input the wrong details of your gift card. Either you omitted a number/ figure or mistook an I for 1. All you need to do is carefully re-input the details of your gift card and you would be fine. Although there are a couple more Amazon gift card errors, these are the most common ones.
Another vital thing you should know about this gift card is how to check your balance. This way, you can stay on top of your expenses and know when you would need to buy a new one. Nobody wants to be humiliated at the store. 
How To Check Your Amazon Gift Card Balance
If you want to know your Amazon balance, all you need to do is; 
Go to Your Amazon Account.

Select "Gift cards" and your balance appears in the top right corner of your dashboard. 
FAQs About The Amazon Gift Card
Do Amazon Gift Cards Expire? 
No, Amazon Gift Cards do not have an expiration date.
Can I Sell My Amazon Gift Card For Cash? 
Amazon gift cards can be resold for cash outside the brand. However, I strongly advise you only perform such an activity on a trusted gift card exchange platform.
Where is The Best Place To Sell My Amazon Gift Card For Cash?
Cardtonic is the best place to sell your Amazon Gift card for cash in Nigeria. We are a legitimate platform that would give you the highest rates in the market for your digital asset and also offer fast payouts for all your transactions at any time of the day. 
To get started, all you need to do is; 
1. Open the application or website and click on "SELL GIFT CARDS".
2. Select AMAZON GIFT CARD as the category,
3. Pick the Amazon gift card you intend on selling. For example, USA Amazon cash receipt ( 100 – 200).
4. Input the amount of your gift card, e.g. 200 
5. Then Upload your gift card picture/s.
How Much is The $100 Amazon Gift Card on Cardtonic?
One of the major factors that determine the rate of an Amazon gift card is the Amazon gift card receipt. For example; cash, debit, or credit. When selling your Amazon gift card, you would be asked to pick the type of receipt you have. (You also have the option to pick no receipt if you do not have any). 
Each of these methods has its unique rates on Cardtonic, but the cash receipt usually has the best rate compared to its counterparts. 
The $100 USA Amazon Cash receipt has a resale rate of 420/$1 on Cardotnic currently, while the debit and credit/no receipt counterparts can be sold for 390/$1 and 350/$1 respectively.
Conclusion
With an Amazon gift card, you can buy every item at the store, online, and even renew your web services from the brand with ease. They are small, mobile, and do not expire. If you are buying this gift card either for yourself or a loved one, one thing that is clear is the fact that it would be highly efficient. Amazon also delivers to Nigeria, so every item you purchase from their website can be delivered to your doorstep.
This digital asset can serve you both on and off the brand. Whether you are planning on buying or selling them, the best place to conduct such transactions is Cardtonic. This is the only gift card exchange platform where you get the best value for your money.