Razer is a multinational technology company that develops and sells games. Both Hardware and software. Asides from games they sell consumer electronics and offer financial services as well. 
One of their most well-to-do financial service product is the Razer gold gift card. These digital assets can be used to purchase games, and videos on the platform.
Razer gold gift cards occasionally give a particular error message when you try and redeem them. Although frustrating can be amended if you follow the adequate steps.
How To Fix Razer Gold Gift Card Error Message
The error message is "Invalid Code".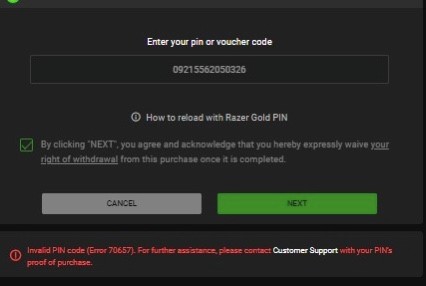 The "invalid code" is an error message you get when you do not type in the correct details of your gift card. If you get this error message, you first must re-input your code gently. If this does not work, you can contact Razer support with the PIN and proof of purchase.
The best way to enjoy this digital asset is by being prepared for everything. Now that you know how to resolve this error, you are ready to properly redeem your Razer Gold gift card.
Other Gift Card Errors:
Xbox Gift Card Errors Error and Solution
How to Fix Walmart Visa Gift Card Errors
Walmart Gift Card Errors – Fixed
The Target Gift Error Messages and How To Fix Them