American Express is popularly referred to as AMEX. They are a financial service corporation that operates majorly as a card provider to individuals and businesses. 
The AMEX gift card is a digital asset. Which can be used to purchase items anywhere AMEX is accepted as a means of payment. In other words, this gift card can be used practically everywhere. 
Forms of AMEX Gift Cards
There are two types of these digital assets; Physical and E-code. 
1. Physical Amex Cards: They are plastic, designed with AMEX, and can be purchased at physical stores like Target & Walmart.
2. E-codes: AMEX E-codes are electronic, and when purchased via the website or 3rd party websites, they are sent directly to your email. 
These digital assets are fun to redeem, and due to the variety you get from them, you can never get tired of shopping. What then happens when your fun is cut short and you receive an error message when redeeming your AMEX gift card? do you just throw it away? certainly not.
What Error Messages Can You Get When Redeeming American Express Gift Cards? 
The only error you can get is "Not Activated/Gift Card Deactivated"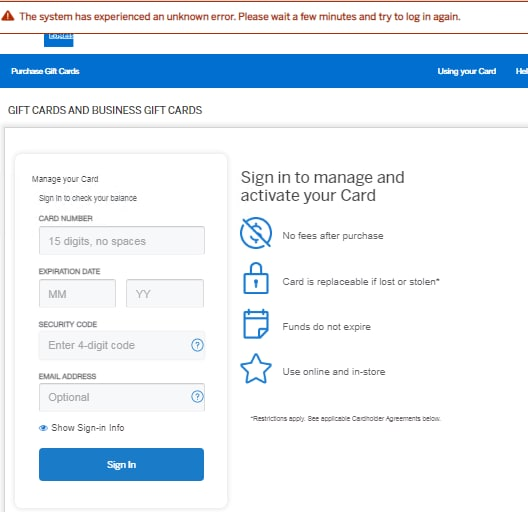 How Can You Fix The "Not Activated/Gift Card Deactivated" Error?
If your AMEX gift card is "Not Activated/Deactivated", do not panic. All you need to do is go back to the store of purchase and ask them to activate your gift card properly. You can read more on this at Cardtonic's help desk or get in touch with the support department of AMEX directly with your error message. 
AMEX gift cards can be redeemed at loads of places. When you start, you get an inevitable rush that makes you not want to slow down. This error message can serve as a barrier. However, now that you know how to fix it, you are good to go.
Other Gift Card Errors:
Xbox Gift Card Errors Error and Solution
How to Fix Walmart Visa Gift Card Errors
Walmart Gift Card Errors – Fixed
The Target Gift Error Messages and How To Fix Them