Steam is an online gaming platform that allows its users to interact and play millions of games 24/7. They are also the largest distributor of PC gaming. 
Steam gift cards are digital assets created by steam that function as an additional payment method on the platform. With this gift card, you can buy games, videos, and all downloadable content on the platform.
There is no doubt that the Steam gift card is very resourceful and makes your gaming experience more desirable. It can be frustrating to receive an error message when you try to redeem your steam gift card or sell it. However, contrary to popular belief, your gift card is not spoiled, and it can be fixed. 
The Steam Gift Card Errors and Solutions
1. Not Activated/ Invalid Code: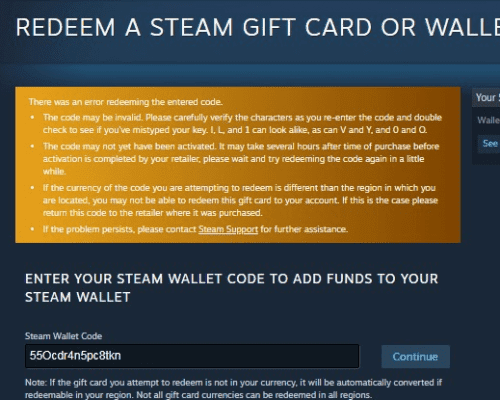 The "Not activated/ Invalid Code" error message can occur for several reasons. Firstly check if you typed the wrong details of your gift card: Look out for the I's and 1's, the 0's and o's, etc. If this isn't the case, it means your steam gift card was not correctly activated from the store of purchase. All you need to do is take it back and request proper activation or contact Steam for support. 
2. Already Redeemed:
If you get the "already redeemed" error message, it means your gift card was previously used on the platform. Ensure you are redeeming a steam gift card that is brand new on the platform.
This is only a minor issue. Once resolved, you can begin redeeming your digital asset immediately. 
Other Gift Card Errors:
What Are The Nike Gift Card Errors and How Can They Be Fixed?
Common Macy's Gift Card Redemption Errors Solved 
Some Footlocker Gift Card Errors and Their Solutions
Possible eBay Gift Cards Errors and How To Fix Them
How To Fix Errors Associated With Google Play Gift Card