Nordstrom is a high-end fashion store that sells clothing, footwear, and accessories of various big brands. Such as; Bottega, Hugo Boss, Calvin Klein, Dior, Fear of God, etc. You have a mix of luxury streetwear, casual, and also formal clothing on the brand. 
Nordstrom gift cards are digital assets that help you purchase these items from the brand easily. They serve as an alternative and simpler means of shopping on Norstrom. 
Although these digital assets are great, there are a few occasions where redeeming your Nordstrom gift card can be halted because of error messages. Once you understand them and know the appropriate steps to take for each one, then you are good to go. 
Possible Nordstrom Error Messages 
The possible Nordstrom error messages that can occur include; invalid code, and unable to deduct balance from the card.
1. Invalid code: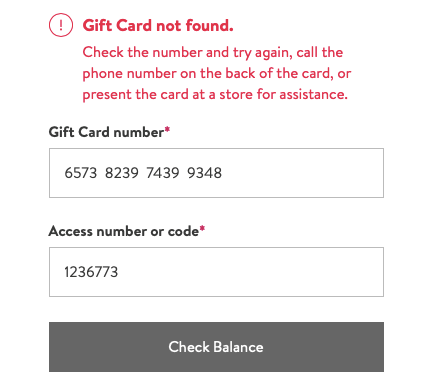 If your Nordstrom gift card ever gives an "Invalid code" error, you first need to crosscheck your gift card details. This error often occurs when you make a mistake typing in the details. If this still does not work, you can either; call the number on the back of your card for assistance or present it at the store of purchase. 
2. Unable To Deduct The Balance of The Gift Card: The  "unable to deduct the balance of the gift card error" can either mean a network issue from Nordstrom or a problem with your gift card. The first step would be to wait a bit and try again later. If this does not work, you can call support for assistance. 
You can't go wrong with Nordstrom gift cards. They keep you looking fresh and classy any time of the day. With this information, you have nothing holding you back from dropping those fits back to back. 
Other Gift Card Errors:
The Popular Steam Gift Card Error and How To Fix it
What Are The Nike Gift Card Errors and How Can They Be Fixed?
Nordstrom Gift Card Error Messages and How To Solve Them
The Razer Gold Gift Card Error Message and its Solution
Common Macy's Gift Card Redemption Errors Solved