Apple is a multinational technology company founded in the United States, California. They are the largest tech company in the world and one of the five biggest information technology companies in America.
Itunes is a digital streaming platform/ marketplace created by Apple which serves as an avenue for users to buy digital products such as music, software, games, movies, iCloud storage space, etc.
The Apple gift card is a digital payment asset used to purchase all Apple products, such as MacBooks, iPhones, and iPads, and make payments on iTunes and App Store. The list of options is endless, and you only have so much on your Card, so it is safe with this gift card. You can never get tired.
What could go wrong? well, there is a possibility you might have tried to redeem your Apple gift card, and it gave an error message. Even if this hasn't happened to you, it is always better to know how to fix things beforehand. It saves time and unnecessary worry. 
Check out: Why Nigerian Debit Cards Don't Work on Apple Music – And The Solution
Most Common Error Messages Associated With Apple Gift Cards
1. Invalid Code:

 If you get an error message saying, "the code entered is not valid. For help, go to Code Redemption Support, " you need to check some things.
1. Check that you typed the correct code.
2. If the error persists after confirmation, reach out to Apple support for a resolution.
2. Gift Card Has Not Been Activated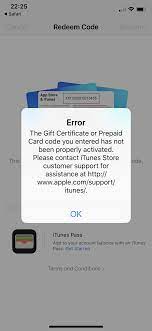 When you see "Your gift certificate or prepaid card code you entered has not been properly activated. Please contact iTunes store customer support for assistance"; You need to return to the store of purchase if your "Card Has Not Been Activated". And ask the store attendant to activate it properly. 
4. Code is Unreadable
If you over-scratch your card or damage it, you will properly get the "Code is Unreadable" error. Get in contact with the apple with proof of payment so they can help with your code from their end.  
5. Code Must Be Redeemed in a Different Country or Region
For this error, you need to redeem your code in the same country or region of the gift card. The "Code Must Be Redeemed in a Different Country or Region" error can only occur if you try and redeem your gift card in a location different from the place of purchase. For example, trying to redeem an Apple gift card you bought in the United States in Germany. 
Nothing should get in the way of your shopping. With the points mentioned above, you are equipped and well-prepared for any possible hiccups you may face when redeeming your Apple gift card.
Other Gift Card Errors:
Some Footlocker Gift Card Errors and Their Solutions
Possible eBay Gift Cards Errors and How To Fix Them
How To Fix Errors Associated With Google Play Gift Card
Apple Gift Card Errors and How To Fix Them
Common Errors Associated With AMEX Gift Cards and How To Fix Them